Hall Of Fame
Rear Admiral S. Frank Gallo, USN (Ret), Class of 1957
National Executive Director of the Armed Services YMCA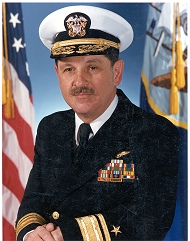 Rear Admiral Gallo attended SUNY Maritime College and graduated in 1957 with a Bachelor of Science in Marine Engineering in addition to a Third Engineer's Merchant Marine License in Steam and Diesels. He was commissioned an Ensign in the U.S. Navy in November 1958. His first assignment was aboard the USS Estes (AGC-12) home ported in San Diego, California where he served as Main Propulsion Assistant until July 1960.

Rear Admiral Gallo commenced flight training and was designated a Naval Aviator in October 1961. After designation, he reported to Patrol Squadron TWENTY-THREE in Brunswick, Maine, flying the P2V Neptune, serving there until June 1965. He then reported to the Naval Postgraduate School in Monterey, California, where he received a Master's Degree in Aeronautical Engineering (AeE) in June 1968.

His next assignment was as Communications Officer on the staff of Commander Carrier Division TWENTY, initially aboard USS ESSEX and later aboard USS INTREPID. After the decommissioning of CARDIV TWENTY, Admiral Gallo reported as Communications Officer to the staff of COMCARDIV FOURTEEN aboard USS WASP where he served until January l971.

Rear Admiral Gallo next reported to Patrol Squadron THIRTY for transition to the P-3 Orion en route Patrol Squadron ELEVEN in Brunswick, Maine, where he served as Safety Officer and Operations Officer.

In 1973, Rear Admiral Gallo attended the Naval War College in Newport, Rhode Island, designated as a Distinguished Graduate. After refresher training at Patrol Squadron THIRTY, he reported to Patrol Squadron TWENTY-FOUR as Executive Officer and subsequently Commanding Officer, serving until December 1976. He then reported to the staff of Commander Patrol Wing FIVE as Operations Officer, serving until February 1979.

His next assignment was to the staff of the Chief of Naval Operations in Washington, D.C., as P-3 Program Coordinator until April 1980 when he became the Executive Assistant to the Deputy Chief of Naval Operations (Air Warfare) until June 1981. He was then ordered as Commander Patrol Wing ELEVEN from July 1981 to August 1982.

Following his tour with PATWING ELEVEN, he served as Executive Assistant to the Supreme Allied Commander Atlantic; Commander in Chief, U.S. Atlantic Command; and Commander in Chief, U.S. Atlantic Fleet until June 1985 when he was promoted to flag rank and assigned as Commander Patrol Wings, U.S. Atlantic Fleet in Brunswick, Maine.

Rear Admiral Gallo assumed command of Fleet Air Mediterranean, Maritime Air Forces Mediterranean and Maritime Surveillance and Reconnaissance Forces, U.S. Sixth Fleet (CTF-67) in July 1987 in Naples, Italy.

He returned to Washington, D.C. in January 1990 as Deputy Chief of Naval Personnel in which position he served until his retirement from the Navy in September 1993.

He became the National Executive Director of the Armed Services YMCA in December 1994 and currently holds that position.
Distinguished Service Medal
Defense Superior Service Medal
Legion of Merit (2)
Meritorious Service Medal (2)
Air Medal
Navy Commendation Medal
Navy Achievement Medal
Navy Unit Commendation
Vietnamese Service Medal
Philippine Presidential Unit Commendation
Vietnamese Civil Action Ribbon
Federal Armed Forces Commendation Cross in Silver from the Federal Republic of Germany
Bachelor of Science in Marine Engineering from State University of N.Y. Maritime College
Master of Science in Aeronautical Engineering from Naval Postgraduate School, Monterey, CA
Naval War College, Newport, R.I. - Distinguished Graduate
Rear Admiral S. F. Gallo was born in Brooklyn, New York on 1 July 1936. He is married to the former JoAnne Balch of Munsonville, New Hampshire. They reside in Fairfax Station, Virginia and have three grown children: Elizabeth, Anne and Katherine and two grand children.